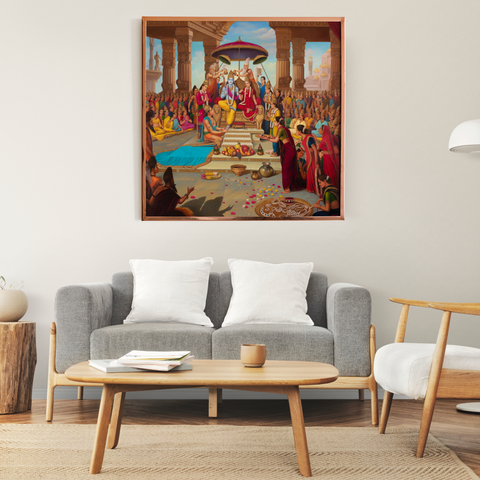 Shri Ram Abhishek by Raghu Vyas
Shri Ram Abhishek is a stunning painting by artist Raghu Vyas, depicting the divine ceremony of Shri Ram's anointment. With intricate details and vibrant colors, this signed edition piece is a true masterpiece that captures the essence of devotion and spirituality. A beautiful addition to any home or spiritual space, this painting is sure to inspire and uplift.
Canvas Print will be on German Archival Canvas with Archival Spray (Protective Layer)

Original painting made by Raghu Vyas in Raja Ravi Varma style
Original signatures of painter Mr. Raghu Vyas
The frame is not included with the product
We also customize sizes according to your requirement. For a custom print, please contact us at info@thehouseofram.com
10 customers are viewing this product
Handle with care: Treat the painting gently, avoiding direct contact with the painted surface.
Protect from sunlight: Display the artwork away from direct sunlight or intense light sources.
Maintain a suitable environment: Avoid extreme temperatures and humidity levels, keeping the painting in a stable climate.
Shri Ram Abhishek by Raghu Vyas is a stunning artwork that captures the essence of devotion and reverence towards Shri Ram. The limited edition print is signed by the artist himself, making it a one-of-a-kind piece that is perfect for collectors or anyone looking to add a touch of spirituality to their home or office. The intricate details and vibrant colors of the print make it a true masterpiece that is sure to catch the eye and spark conversations.

This beautiful piece of art is a representation of the Abhishek ceremony, a ritual that involves the bathing of deities with various substances like milk, honey, and water. The artwork portrays Shri Ram and Sita seated on a lotus flower while being bathed in holy water, surrounded by other deities and worshippers. The vibrant colors and intricate details of the artwork make it a truly immersive and captivating piece that transports the viewer to the world of devotion and spirituality.

The Shri Ram Abhishek print is not just a piece of art, but a symbol of devotion and reverence towards Shri Ram. It is a perfect addition to any home or office, adding a touch of spirituality and peace to the surroundings. The signed edition makes it an even more special and unique piece that is sure to become a treasured possession for anyone who appreciates the beauty and power of art and spirituality.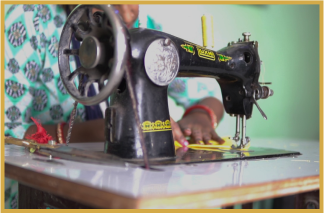 More than just employment, skill development has been promoted for women and local artisans in the process of production of all our products.
All our products, or elements thereof, have been blessed at the Hanuman Garhi temple in Ayodhya, to bring blessings of Shri Ram to you.
To express our gratitude and respect to the elders of the society, part of our profits have been pledged to support Old age homes across the country, starting with Vriddha Mahila Ashram in Ayodhya.
All our Profits go towards supporting Vriddha Mahila Ashram