Ram Chandra Premium Scented Candle
A scent as pure as your character, a scent as pure as the RAM in you.

Our Candles come in four Aromas which have been specially chosen to not only evoke a sense of peace but also as a contributor to the character of your home and your energy which is as pure and unblemished as you.

Ingredients: 100% Soy Wax and natural essential fragrance oils.

Fragrance notes: Sandalwood, Woody, Earthy, Balsamic

Pure: unalloyed, unstained, unpolluted, uncorrupted, untarnished, immaculate.
Rs. 1,499.00

Rs. 1,099.00

Unit price

per
10 customers are viewing this product
1 Soy Wax Candle with Premium Glass
Lid Net Weight: 330 gms. Comes with 3 cotton wicks
Burn Time: 40 hrs, unique fragrances with a balanced throw
Make sure to trim your wicks to 1/4'' before each lighting your candle
Always burn candles within sight and keep them away from anything that can catch fire
Keep the candle jar with lid for long term retention of the aroma
Store the candle in a cool and dry place with a lid to avoid dust which can dull the scent
Move the candle away from any vents, fans, or air drafts
Keep the wax pool free of debris
Do not use water or any other liquid to extinguish your candle
If you are still experiencing excess sooting, please trim your wick to 1/8''
Discontinue use when ¼'' of wax remains or it may result in over-heating and breaking of glass jar
Do not use water or any other liquid to extinguish your candle
Introducing Ram Chandra Premium Scented Candle, a fragrant ode to the beloved deity Lord Rama. Made from the finest quality ingredients, these candles have a refreshing aroma that fills your space with positivity and tranquility. The subtle, yet distinctive fragrance of sandalwood, and balsamic adds a natural touch to your surroundings, bringing a sense of calmness and rejuvenation.

This candle is an ideal way to enhance your meditation or yoga practice, helping to relax the mind and body. The fragrance notes of Ram Chandra Scented candles can be a great way to create a calming and inviting environment in your home or office or to incorporate into your self-care routine.

Each pack contains 1 high-quality 330-gram soy wax candle in a luxurious glass jar with a burn time of 40 hours. Experience the soothing and refreshing scent of the Ram Chandra Scented Candle and add a touch of tranquility to your daily routine.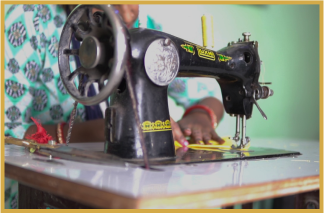 More than just employment, skill development has been promoted for women and local artisans in the process of production of all our products.
All our products, or elements thereof, have been blessed at the Hanuman Garhi temple in Ayodhya, to bring blessings of Shri Ram to you.
To express our gratitude and respect to the elders of the society, part of our profits have been pledged to support Old age homes across the country, starting with Vriddha Mahila Ashram in Ayodhya.
All our Profits go towards supporting Vriddha Mahila Ashram